GM International is a manufacturer of a wide variety of Intrinsically Safe products with certified experience and well-known capability to give prompt and efficient solutions.
Our mission is to provide qualified intrinsically safe isolators to support Intrinsic Safety Instrumentation and Systems for Oil & Gas, Petrochemical and Pharmaceutical Industry.
GM International provides local pre- and post- sales support through its 7 direct subsidiaries and numerous agents and distributors in more than 55 Countries. Our authorized sales network ensures a fast response wherever you are.
Within Its continuous activity that leads GMI to becoming a global partner, Honeywell, the worldwide leader in Automation and Safety Solutions, has certified functional compatibility of GMI products with its Safety Manager Remote Universal Safe IO (RUSIO).
GMI Isolators, Safety Relays and tailored Termination Boards, suitable for use in SIL3 loops (IEC61508/IEC 61511), have been successfully tested in the Honeywell Competence Center in Rosmalen - The Netherlands.
All compatibility aspects, including Line Monitoring for fault detection, have been successfully tested following the procedures part of the Honeywell Multiple Vendor Interface Program.
Flavio Carbognani, PHD, R&D Engineer At GMI
"We feel proud to make available probably the most complete series of intrinsically safe barriers, safety relays and isolators in the market to the Safety Manager RUSIO system. The last GMI D5000 product generation, mounted on the ad hoc Termination Board, meets the universal vocation of the RUSIO, matches its high safety requirements, while extending its monitoring capabilities to the field."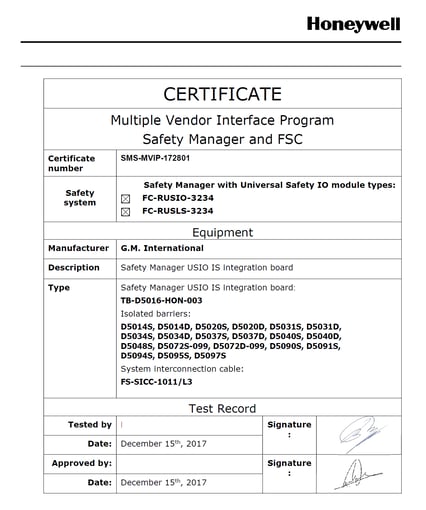 For more information, feel free to contact us here.