The global market for intrinsically safe equipment exceeded 3 billion dollars in 2021. Even in an uncertain situation, the market is expected to reach a value of 4,6 billion dollars by 2027.
An intrinsically safe equipment (IS, Intrinsic Safety) is used to prevent explosions by limiting the thermal and electrical energy that can cause the ignition of a specific hazardous atmospheric mixture. Intrinsic safety technology has indisputable advantages such as reliability, flexibility, and easy installation and maintenance. Intrinsic safety devices contribute to protect people, environment and assets potentially exposed to explosion risks. Then, they can eliminate the cost of add on components such as some explosions proof enclosures. Intrinsically safe devices mainly include sensors, switches, gas detectors, LED indicators, transmitters, converters, isolators, and Zener barriers. Although they cross industries, main applications of this equipment are in the oil and gas, mining, power, chemical, automotive, health care, paper industry, manufacturing, and infrastructure sectors.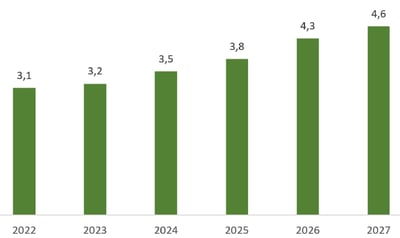 I.S. equipment global market size, 2022-2027 (in billion dollars)
Reworked data - studies and research Market Reports, Market Watch, iMac, MordorIntelligence
Ukraine and energy demand
Russia's invasion of Ukraine has had humanitarian and economic repercussions around the world. In particular, the energy industry and safety technologies used in the supply chain has been particularly vulnerable. For many oil and gas companies the imperative is to mitigate potential supply disruption from Russia. In the long term, the sector needs to strengthen its resilience in a rapidly changing energy world.
Energy markets, particularly in Europe, were already in an uncertain situation before the war in Ukraine. Having passed the critical post-pandemic phase, global energy demand was already beginning to exceed supply in 2021, with the imbalance rising to as much as 2 percent in 2022. This may not sound like much, but it is equivalent to about two million barrels of oil per day.
Electronic components shortage
Another problem greatly felt by manufacturers and users of electrical engineering and industrial electronics is the so called components shortage. Requests for connecting digital devices increased enormously since during the pandemic. Concurrently, U.S. embargo toward Chinese technologies has caused that many semiconductors manufacturers could not rely on Chinese factories. Some customers have created huge stock of components creating problems for others. For example, think about the strong demand for 5G mobile phones which require much more passive components than 4G and greater investment in telecommunications infrastructure. Even the increased demand for AI chips, accelerated data center built-outs, and cryptocurrency mining hardware has also complicated the industry's plans.
We also can not overlook some exceptional events such as the rise in electricity prices in China and Mongolia that led to lower production in silicon mining plants, water shortage in Taiwan, the extremely harsh winter in Texas, and the fire and production block at Renesas' Japanese plants. From the forecasts of major semiconductors manufacturers, this situation could last another two years. In the meanwhile, since October 2020 electronic components lead times jumped to close to 40 weeks of delivery time for some categories. From prices point of view, the semiconductors market is an oligopoly with specific market rules and prices increased up to 80% in the past year. Increases have been higher for other raw materials used in electronic industry such us copper, zinc, tin, gold, palladium, silver, aluminium, and PVC.
Positive trends
Beyond this dark scenario, it is also fair to highlight some favourable trends. The first one is represented by bonuses and incentives for digitization and innovation.
The second trend is related to services and software. In this phase companies will also - and above all - have to propose services, software, and solutions and aspects that take into account, for example, sustainability, safety and connectivity. Solutions that ensure more energy-efficient machinery operation with less waste, scrap and garbage.
Third factor is education. A qualitative leap is needed from the workforce. Not just line operators and machine maintainers, the development of new managerial and digital skills and competencies will also have to be fostered because they are critical to managing the ongoing transition and properly approaching the new production environments.
Then, there are long term technological trends that starting from 2023 should get back to pre-Ukraine and pre-pandemic dynamics. Key factors driving market growth are fieldbuses integration and input and output (I/O) cards into intrinsically safe equipment, as well as the increased use of automation systems and safety devices to reduce damages, accidents, and fires risks. Other factors, such as the fast transformation of some industries (automotive, onshore, and offshore exploration), increased investment in research and development (R&D), and innovative intrinsically safe equipment introduction by manufacturers will positively stimulate growth. Another key factor supporting and integrating intrinsic safety is the deployment of digital and 4.0 technologies such as remote diagnostics, haptic interfaces, virtual and augmented reality, smart DPI and wearable technologies.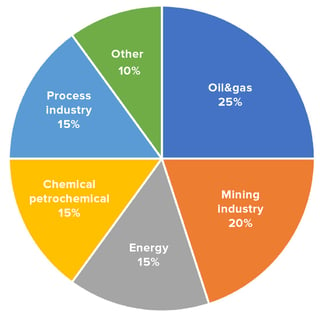 IS equipment global market share per industry (in million dollars)
Reworked data - Studies and research Market Reports, Market Watch, iMac, MordorIntelligence