GM International announces its FSE trainings calendar for the year 2020. GMI is a course promoter of the TÜV Rheinland Functional Safety Program for Safety Instrumented Systems (SIS) trainings. The course focuses on functional safety aspects for the process, oil & gas, and chemical industries according to IEC 61508 and IEC 61511. FSE Training is one of the most important investments for anyone involved in safety lifecycle activities and that shall be competent to carry out the activities for which is accountable.
The main objective of FSE Course is to provide all engineers involved in safety instrumented systems with elementary and necessary knowledge about functional safety, based on the leading international functional safety standards IEC 61508 and IEC 61511. A second objective is to give anybody attending the course the opportunity to have his or her functional safety competency confirmed by the TÜV Rheinland upon successfully passing the exam.
Success in the final examination certifies your functional safety knowledge on your personal name, adding a great value to your professional career and image. Take advantage of this course, examination and certification to prove your clients, peers and management, your competency in the field of Functional Safety!
The course provider is the worldwide renowned Functional Safety Expert, Tino Vande Capelle,a Senior FS Expert (TÜV Rheinland, ID#109/05) & Trainer for Safety Instrumented Systems (SIS) of the TÜV Rheinland Functional Safety Program. Capitalizing on his 30+ years of process safety sector experience, offers a unique and practical approach of the IEC 61508:2010 & IEC61511:2016 FS standards in the industry. Tino has trained Functional Safety for more than 2500+ engineers in 150 different classes worldwide and still counting.
Below the 2020 Calendar of GM International FSE trainings: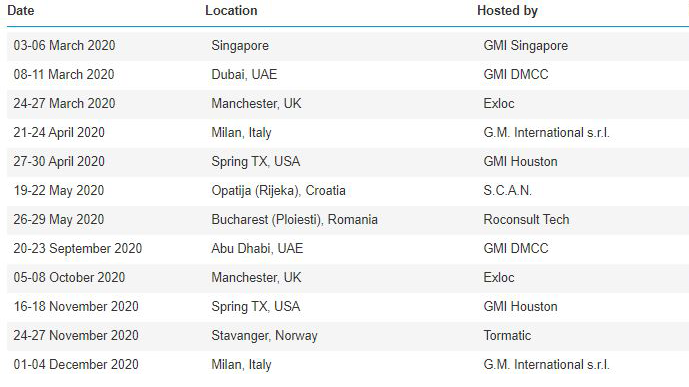 Choose your preferred date and location and reserve your seat!
For general information about courses contact us at: training@gminternational.com
Discover our Safety Academy too:
an innovative series of webinars presented by Tino Vande Capelle and dedicated to Functional Safety.
Click below