The global functional safety market is driven by a strict regulatory framework and by the growth of strategic industries and technologies.
In 2021, the functional safety market was valued at $4.2 billion by Verified Market Research (VMR) and is expected to reach $9.8 billion by 2030, with an average growth rate of 11.2% from 2022 to 2030. In this decade, the Asia-Pacific region - China and India in the lead - is expected to have the highest growth rate supported by industrialization processes, multinational corporations' propensity for massive adoption of safety systems, and investment in heavily regulated sectors such as oil & gas and energy.
Safety Integrity Level (SIL) and IEC 62061 standards, and Good Automated Manufacturing Practice (GAMP) are the reference rules for the implementation of automated functional safety systems. In terms of technology offerings, the market is divided into emergency stop systems, safety sensors and switches, controllers, safety modules and relays, PLCs, actuators, turbomachinery control systems, and other accessory devices. Based on the purpose scenario, the market is divided into process, and manufacturing industries, power generation and other segments. Globally, food, electrification, and automotive are the fastest growing industries for functional safety. The mandatory role of safety standards within machines and plants is also a further growth driver.
Sensors exploit
In terms of products, the safety sensors segment has the fastest growth dynamics, thanks to the contribution of innovations such as stereoscopic vision technology. Safety sensors are designed to ensure a logical output in case a measurement or signal transmission fails. These safety sensors include redundancy elements so that if one element fails, another one takes control of the operations, thus avoiding potential plant downtime or production interruption. Typically, safety sensors are used in emergency shutdown systems (ESD), high integrity pressure protection systems (HIPPS), fire and gas monitoring systems (FGS), burner management systems (BMS) and turbomachinery control systems (TMC). Safety sensors are incorporated into structured functional safety systems for applications such as machinery motion and position sensing, tool data monitoring, and automated system integration.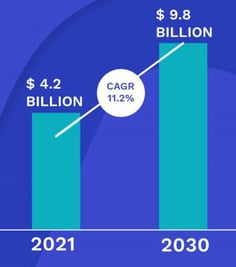 Growth trends in the global functional safety market according to VMR (Verified Market Research).
Barriers to adoption
Alongside the growth factors, the high costs and investments required to implement functional safety systems partly hinder the expansion of this market. The complexity of some implementations and the lack of qualified personnel are additional obstacles to their introduction. Another obstacle to the growth of the functional safety market is the lack of awareness of benefits of using such systems. Furthermore, many industrial companies struggle to recruit qualified safety experts. After all, engineers, computer scientists, and skilled and certified technicians must work cohesively to design robust functional safety systems. The challenge increases during the installation and validation of a new system to the extent that it is critical to ensure the system fully meets Safety Integrity Level (SIL) requirements.
Digital Innovation
The growing application of the Industrial Internet of Things (IIoT) offers excellent opportunities for the functional safety market, even if some barriers slow down its deployment. The IIoT represents a new potential for integrated safety and compliance services. For example, sensors that detect pressure, level, flow rate, temperature, and vibration with digital technologies collect information to communicate to monitoring systems with the ability to support safety instrumented functions (SIFs) directly in plants handling hazardous substances. IIoT also offers the benefits of using low-cost, low-power microprocessors to improve usability and energy efficiency. IIoT enables rapid analysis and management of critical situations, as well as virtual administration of physical systems, resulting in improved performance. Cyber-physical systems (CPS) are another key factor in digital technologies, that can autonomously exchange information, controls and commands between machines and plants.
The industry 4.0 model is clearly based on IIoT, CPS and other digital technologies in which sensors, machines and IT systems are connected in the value chain. The large adoption of Industry 4.0 by manufacturing companies requires the integration of functional safety and cyber security to reduce risks associated with malfunctioning programmable electronic devices. Industry 4.0 also offers a vision of digital transformation that enables continuous plant operation and avoids unnecessary shutdowns. In this context, functional safety ensures that a piece of equipment or device will perform its safety function whenever it is needed.